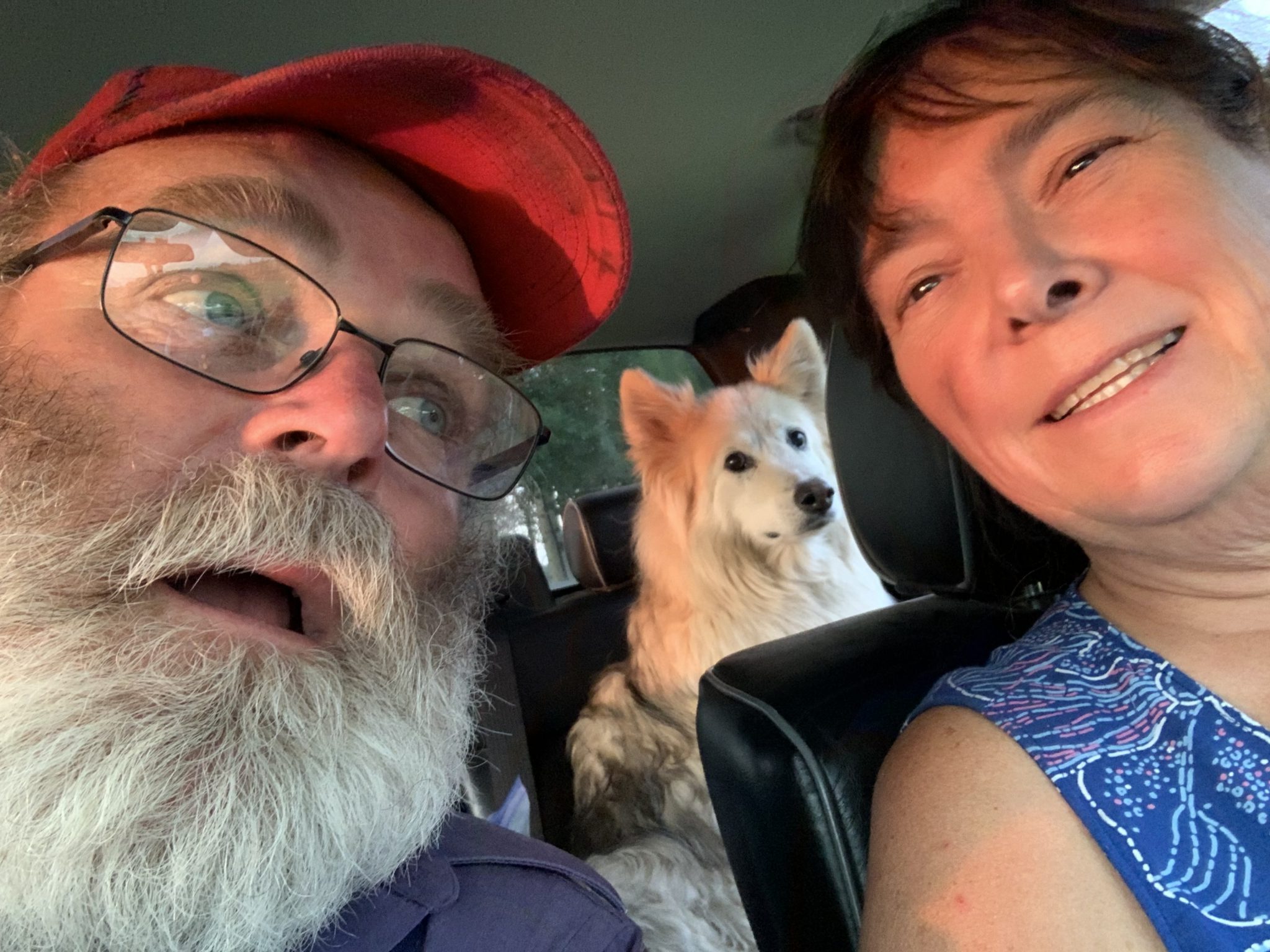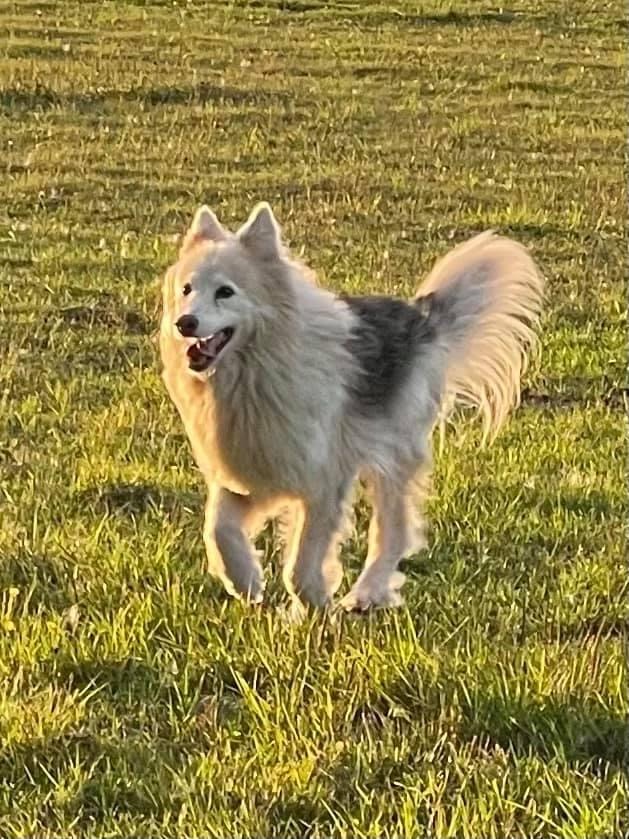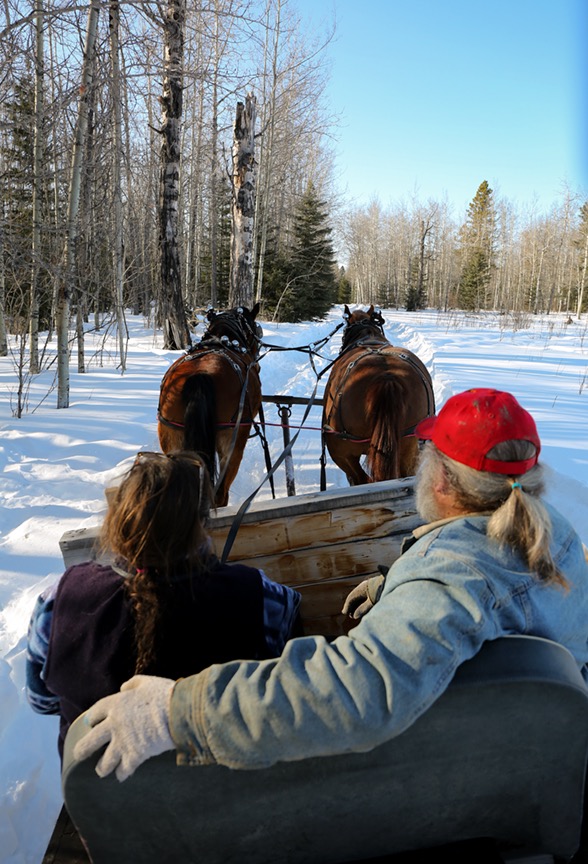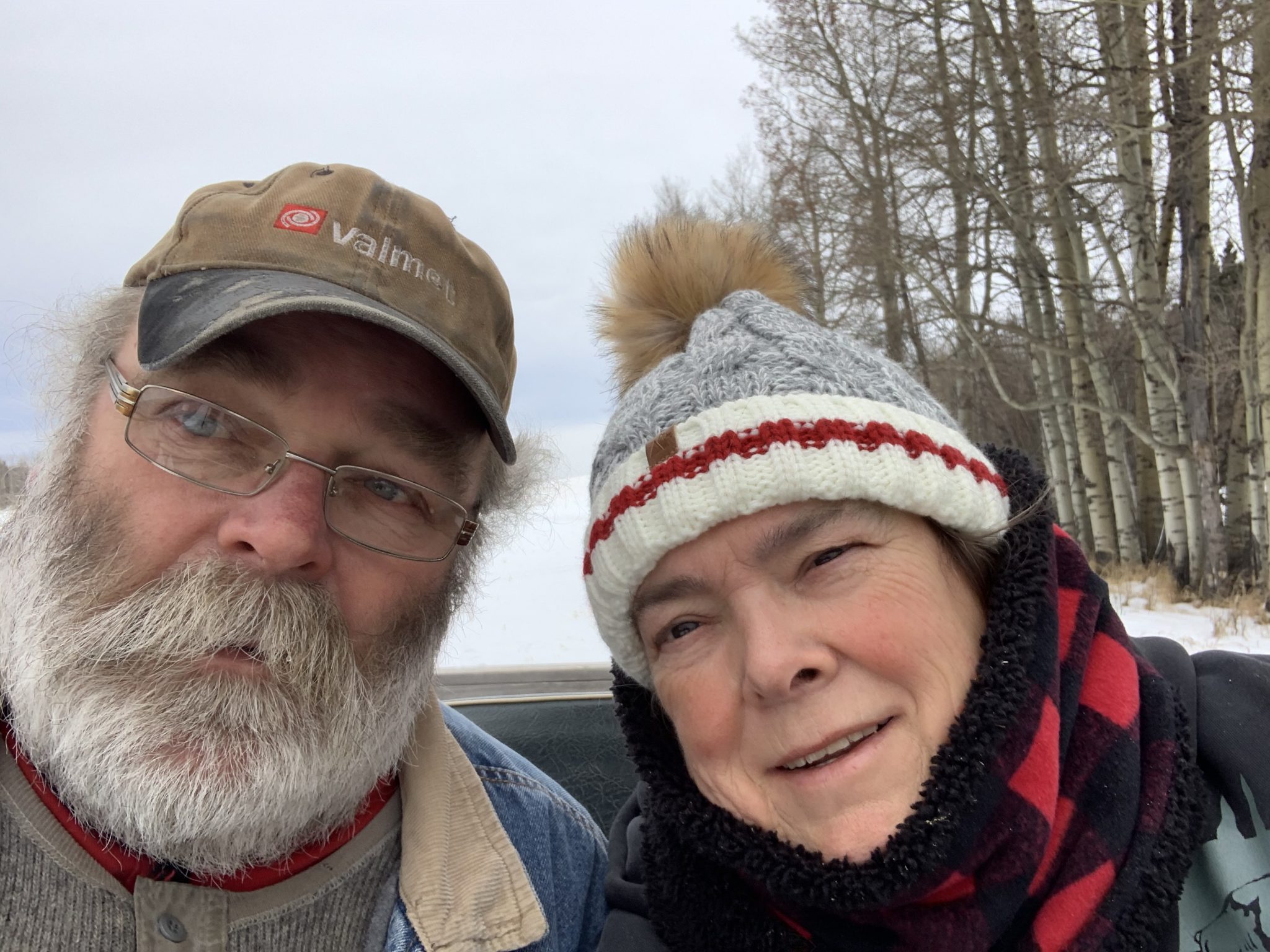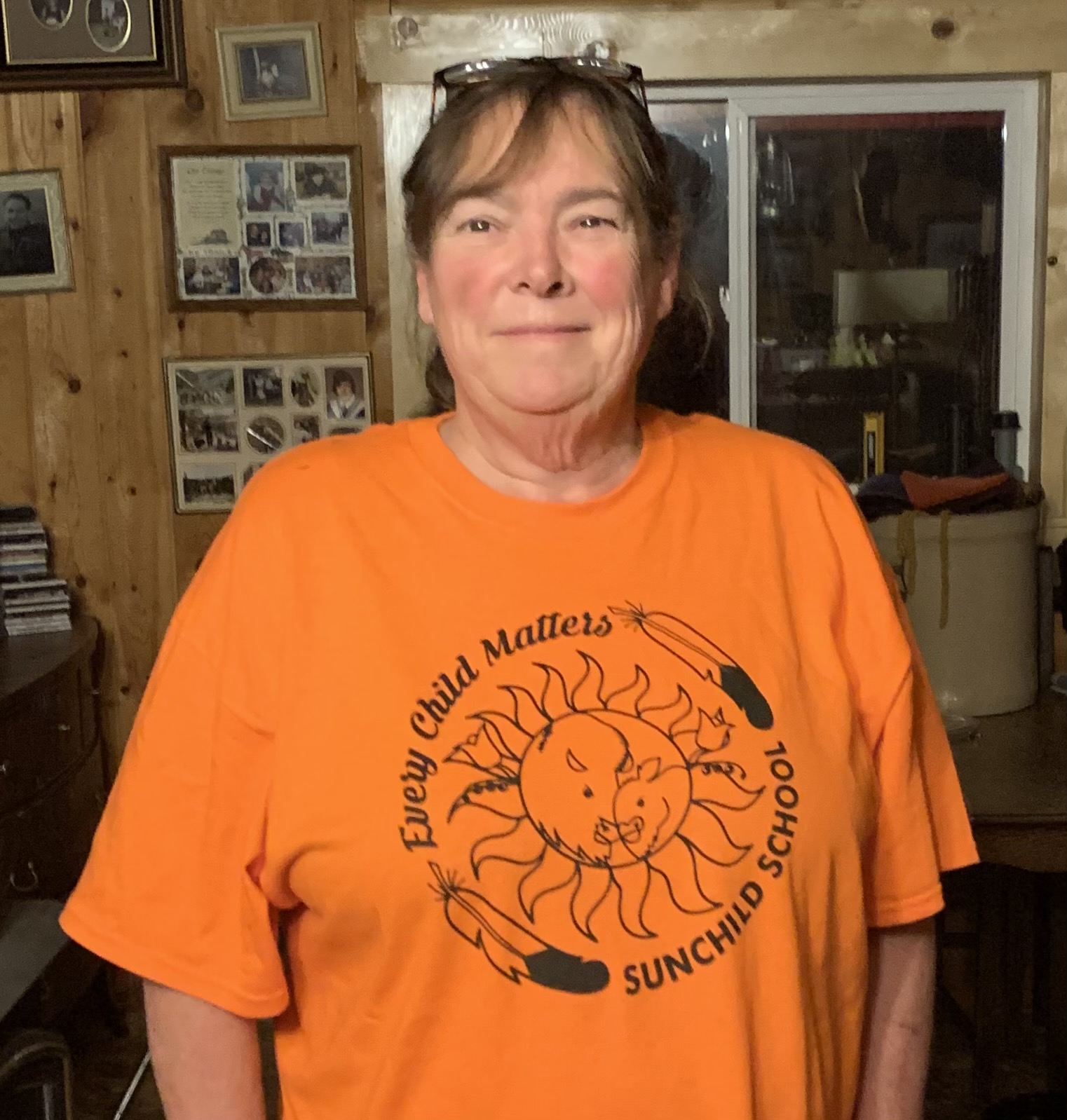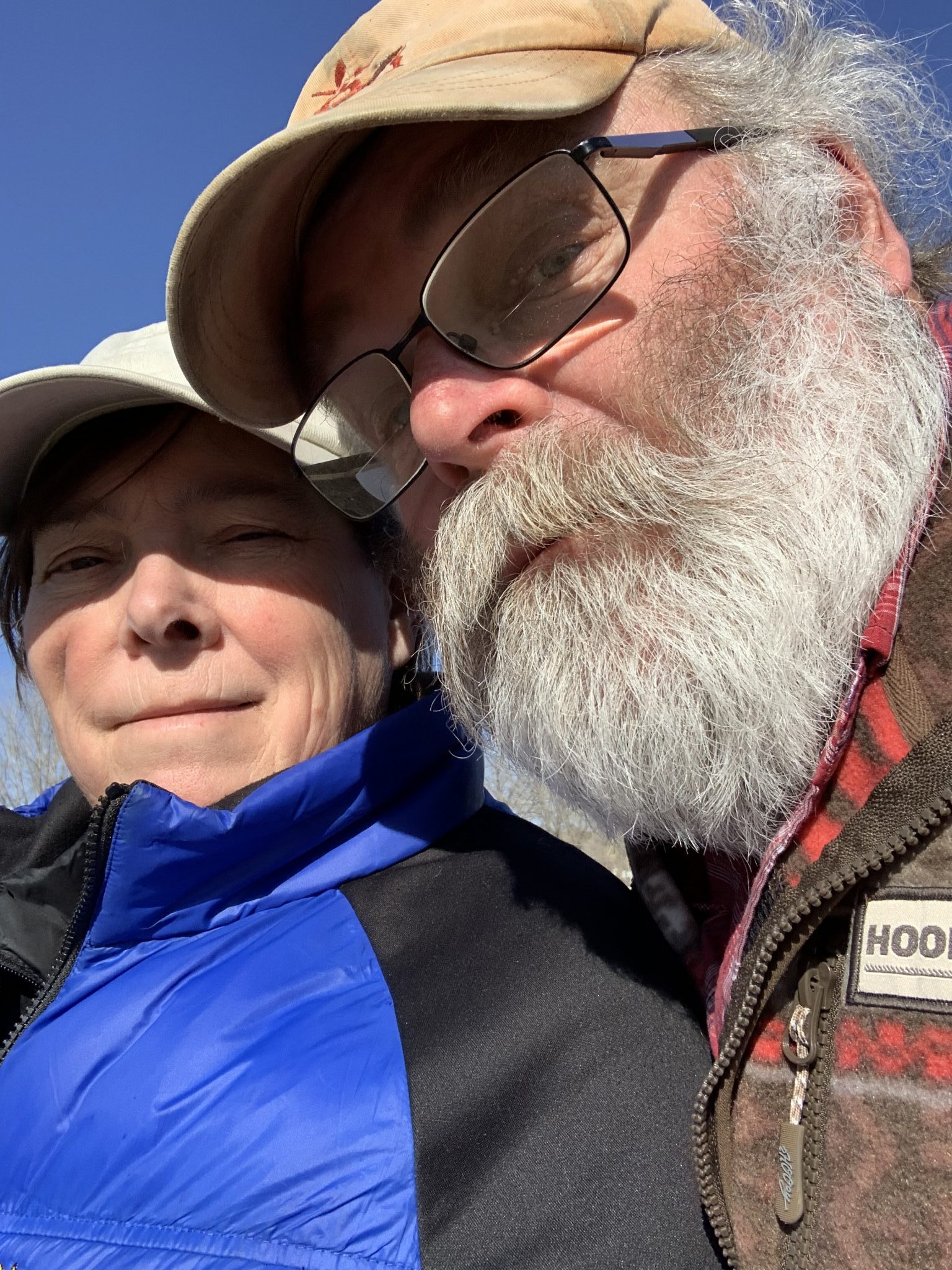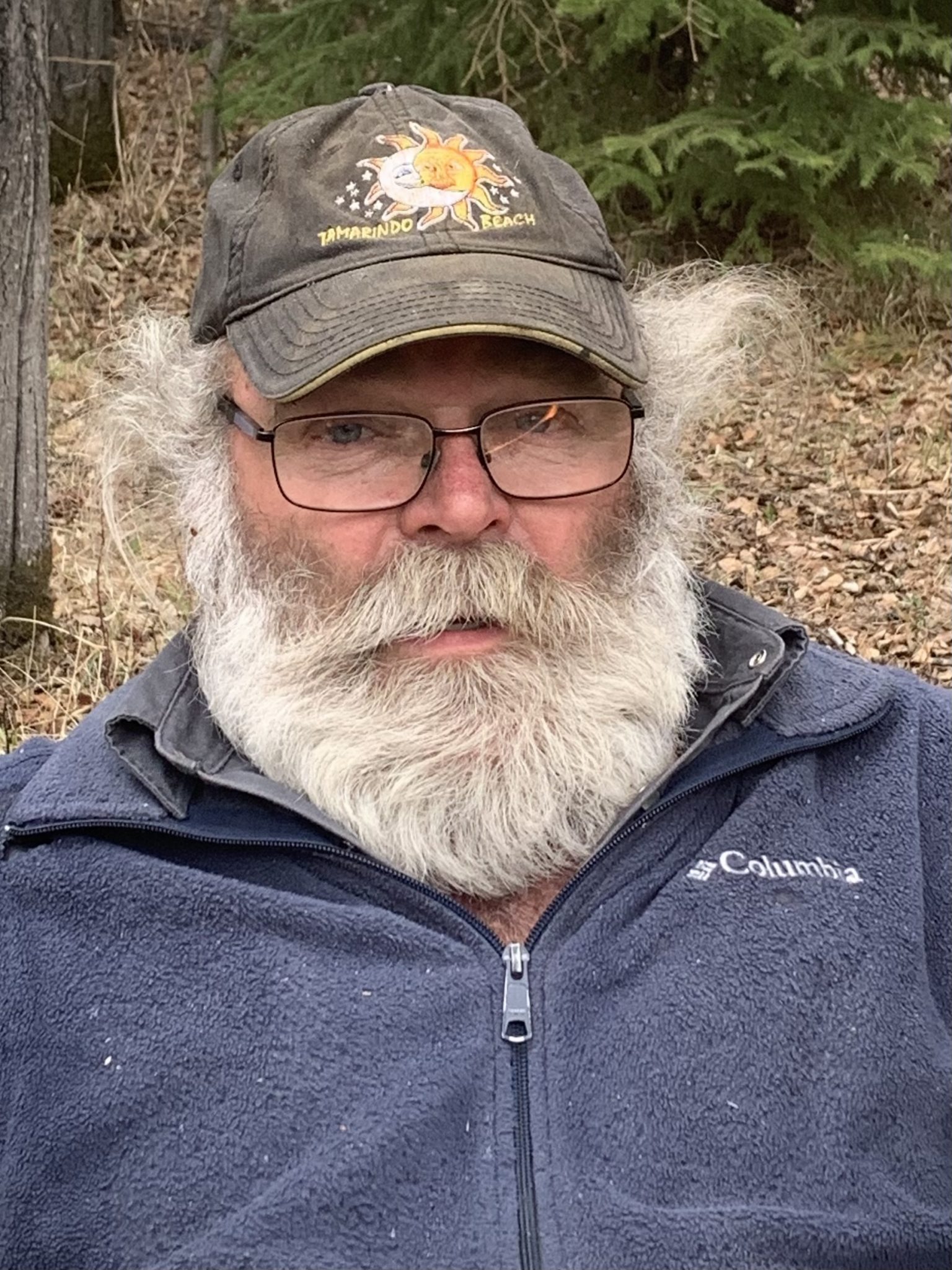 The Brinkman's. Karen and Bob welcome you to our KB Trails web site, our home and the land we care for.
Historically we came to the Rocky area in 1988 from Edmonton as young adults eager to stake our claim and build a home together.
But let me go back a little further…
Bob landed in Edmonton, Alberta from Avondale, New Brunswick in 1979 accompanied by many of his eastern friends. The TV broadcast W-5 had boasted of the many jobs out west running equipment and lack of workers to fill them. Shoveling potatoes for $3 per hour in New Brunswick just couldn't compare with the western jobs; so eager for adventure the guys piled into cars and trucks heading west with dollar signs in their eyes. Bob took a job with Tandem Distributors as a welder's helper and within a few years became a welder/trailer mechanic. He made Alberta his home away from home while many of his eastern friends returned to New Brunswick as the years rolled forward. The pull back home to the Maritimes is a strong one.
I left neighboring Waterville, New Brunswick in 1980 after high school for post secondary studies in psychiatric nursing in Brandon, Manitoba where I met the wonderful family of Harold & Dorothy Stiles more affectionately known as Ma & Pa. Synergistically, their daughter Lynda was also studying psychiatric nursing a year ahead of me and was assigned by the school as my big sister. When Lynda and I met, I mentioned I was missing my horse. Lynda grinned and said her parents had many horses! You see Ma & Pa owned and operated Circle S Riding Academy at Riding Mountain National Park. Yahoo for me...They most graciously welcomed me into their family, providing a home with the horses for the next 2 yrs.
In 1982, after nursing graduation I joined my maritime friends in Edmonton where I went to work at Alberta Hospital Edmonton. Through mutual friends I met "Robert" or "Bob" depending on what end of Canada you know him from. I have always known this fellow as "Robert" and can't seem to make the leap to "Bob" and we've known each other since 1980. Interestingly most of our maritime friends call him "Robert"; all of our western friends know him as Bob. If you hang out with me at all you may find yourself gravitating to "Robert" & if you know him separate of me you will call him "Bob". And so it goes with names… He doesn't seem to mind what you call him. So for purposes of this KB Trail history lesson we will call him Bob. He's the "B" in KB Trails and I am the "K" for Karen.
We married in 1986 on the Bentley farm on the outskirts of north Edmonton off the Manning Freeway where we were renting a small house on a retired dairy farm owned by Jim & Marion Bentley. This was home while we saved to buy our "dream" Alberta ranch. Eager to stay in Alberta yet return to our rural Maritime roots, the land called us to the rocky mountain foothills to build a home together, in an area the ole timers commonly knew as Cheddarville. It is well known today by locals as "Dovercourt" and is located south of the Town of Rocky Mountain House and north of the Village of Caroline, east off Highway #22.
It was in September, 1988 that we purchased the first piece of our Alberta dream, a 156 acres of recreational property from Peter and Carol McArthur for what locals thought was a "pricey" amount of money. In the big city the same dollars would have purchased a very worn out home at best so the price was fine by us. In 1989 we left the city for the farm with dreams of horses, cows, pigs, a log home and farm vacation.
I went to work at the Sundre General Hospital for the next 8 years as a registered nurse followed by a shift to community mental health services for 14 years. In 2010 I left my job with community mental health to start an independent nursing practise called Karing Stories. Bob found work with a variety of local businesses including the Rocky REA, Umscheid Construction, Paradis Brother's Logging as well as a private contracting in the forestry business. Of course all of this in the context of pursuing our own dreams to build the cattle and horse ranch.
Wilson our son came along winter of 1991. He refers to himself as "Wilson", never really adopting a shortened version. Wilson is called by my maiden name as we are a family full of girls with no-one to carry the name forward. It seemed the thing to do. Wilson is known for his deep thinking and old soul wisdom, and willingness to challenge the status quo.
The dream to start a farm vacation turned into action in 1994 when we spent the summer south of Burnt Stick Lake running a few trail rides with half a dozen horses. In 1995 we decided to try it out here on the farm. We had good trails and access to the Clearwater River having some of the nicest riding around the area. We gradually added a cabin or two in the years ahead – not too many as we didn't want to irritate our neighbors or be too intrusive in the neighborhood. We offered the trail riding until 2005 when soaring liability insurance rates across the industry made it financially difficult for the small operators to continue. We chose not to. However, horses are still present on the farm and will be here as long as we are. In the winter theres always a sleigh ride or two. The cabins have done well and continue to do so. Many guests return and every year a few new ones find us. And so the dream circles at KB Trails…Perhaps we will see you soon!
Happy Trails and Many Blessings,
KB