Date: (Friday, November 28, 2014)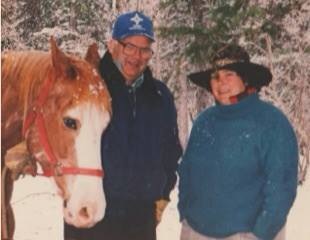 Marven Allen Wilson
September 2, 1940  ~  November 23, 2013 
Interred at Memory Gardens in the Garden of Devotion, Toronto, Ontario
I will not bore you with a formal review
To honour the life of Marven our dad
Some stories instead to share with you
And lighten the mood on days so sad.
Who was this guy named Marven Allen
More commonly known as Starvin Marven
A friendly giant with a big strong hand
Was a hairy beast…this bear of a man.
Marv loved the city, dad loved us and
He loved the farm, dad loved the land
Dad loved his dogs, his pigs and goats
His cows and horses, cars and boats.
Dad loved to drive big trucks and sleighs
A horse drawn buggy from olden days.
He loved the freedom driving brought
Went east and west adventures sought.
He loved the golf cart to wheel around
Marv loved teasing, being the clown.
On the porch Dad loved to chill
And shoot a wisecrack surely will.
Dad loved the water, swam like a whale
Long dives below that never failed
To shock us all how long he'd stay
Below the waves to search and play.
He loved to throw us in the air
We'd laugh and scream without a care
As fast as dad could toss them high
Kids came from all around to cry
Throw me, throw me, throw me, some more
The fun we had made story lore.
Swimming…laughing as we roll
Under sunny skies at the water hole.
Marv loved to camp in woods, at lakes
Camera in hand, the frames he takes
Roll after roll he snaps some more
To capture time on beach and shore,
In wild, on land and farming spaces
And lots of folks with crazy faces.
Some may not know, dad loved to bake
But famous to us for donuts and cake.
You know how Marven loved to eat
Fresh soft buns a favourite treat.
Dad loved his bread and peanut butter
And it made for us a tasty supper.
Marv loved the Leafs another crazy fan
Faithfully watching if he can.
Dad loved playing a game or two
With family or friends he cared not who.
Dad loved his movies; he'd share with a grin
Another western found in the bargain bin!
In search of a find at auction or sales
A gift passed to us girls that never fails
To seek for a treasure; the quest of the hunt
Hoping to find some precious junk.
Marv loved the Lord, his faith quiet and sound
Wherever he travelled, a church always found.
A bible or two would always lie
Beside his chair right by his side.
Lessons from Marv are many not few
Demanding the best from kids and crew
"You must behave and listen up
Do as I say and sharpen up."
Dad faced the world with grace and smiles
When met with strife he pushed through miles
Marching on, he walked through pain
And taught us well what we might gain.
Marv made a home to give us roots
Down deep they grow as flower shoots
Reach to the heavens in the sky
Dad gave us wings so we could fly.
Lessons from Dad in time arrive
4 girls, 2 boys he taught to drive
"If your going to drive and drive you must
Change those tires when they bust.
I'll tell you how but you must do
The work yourself. I'm proud of you"
Our thoughts of Dad always go
To a John Wayne cowboy show
No truer grit can any find
He's our John Wayne, one of a kind.
A hero's journey Marven made
As we lay Dad in his grave.
His spirit goes to the great beyond
And those Dad left sing sorrows song.
This mighty bear now rests in peace
His pains and toils finally cease
Amazing grace lifts hearts so sad
Let's honour Marv …We loved you Dad!
Witten by Karen Brinkman, Karing Stories, Toronto, November 24, 2013